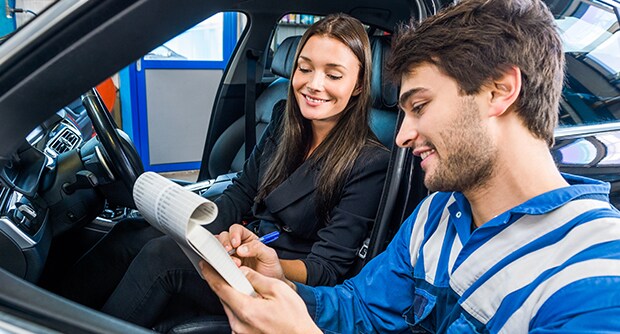 It's time to go used car shopping. Your budget is set; you're now looking for used car specials near Roseville. The friendly folks at The Folsom Auto Mall help dozens of people each day stay within their budgets and find the vehicles they love. They've decided to put together an easy checklist of what you should look out for while shopping for your next pre-owned vehicle.
Exterior Inspection:
Before you decide on a vehicle, be sure that the exterior is in good condition. Just because you're buying pre-owned doesn't mean it can't be quality. The Folsom Auto Mall has hundreds of pre-owned vehicles in great condition;
browse now
for our used car specials near Roseville.
When checking the exterior, look at each section of the body of the car. Look out for scratches, dents and rust spots. Check the mirrors for scratches or cracks. Also, make sure the color and coat are evenly painted throughout. If you are pleased with the exterior, you can move on to the interior.
Interior Inspection:
Here are some of the things to place close attention to in the interior of any used car, truck or SUV:
•
Smell – make sure no foul odor is emitting from the seats, vents or air conditioning.
•
Seats – check to see if there are any stains, tears or holes.
•
Instruments and Controls – make sure no knobs are missing, the buttons are working, and the displays are accurate and functional.
Tire Inspection:
Scoping out the tires of a pre-owned vehicle can tell a lot about how the vehicle has been driven or cared for. Check the tire tread to make sure it's not worn out. Examine the tires for any concerning wear or punctures.
Under the Hood Inspection:
When looking under the hood, check the condition of the engine. Check for rust, signs of a leak and the cleanliness of the engine. Consider having an unbiased mechanic check it out.
Test Drive:
If you made it past the exterior, interior, tires and engine inspections – it is time for a test drive. Make sure the vehicle starts and runs smoothly. Check the wipers, air conditioning, charger ports and windows.
For further consideration of a used car that you may potentially own, read reviews or check out the CARFAX report. At The
Folsom Auto Mall,
you can check the CARFAX report for free on many of our cars, trucks, vans and SUVs. Visit us today for the used car special near Roseville that you've been looking for. Enjoyed reading this? Keep up with our dealership by reading our
blog.