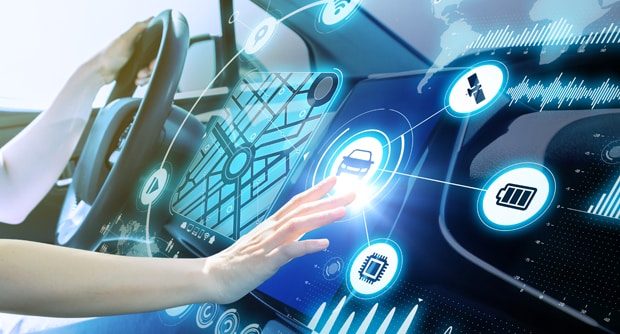 Newer vehicle models are arriving to dealerships with new technology and more standard features than ever before. Driving an outdated vehicle is a thing of the past. Packed with innovative safety features, the latest and greatest in entertainment technology and driver personalization, car manufacturers continue to make your driving experience better, safer and more convenient. Check out these 5 features that you are likely to find standard on your new ride:
1.

Park assist & rear-view camera
Newer models now come with parking assistance technologies, like a rear-view camera and sensors to make parking easier. Many times these features can warn you of a potential accident with an alert; some even apply the brakes to avoid a collision. Lane keep assist is another feature that might be available. Many of these features now even come standard. Check out the new car sales and deals near Roseville to find out which safety features are available in your next new vehicle.
Modern cars have voice control integrated, allowing you to control features in your car. Some of the hands-free voice commands include: making and receiving phone calls, sending and reading text messages, managing car volume, turn-by-turn directions and more!
3.

Adaptive Cruise Control
This is not your typical cruise control. This safety feature uses radar technology to scan the road ahead and then automatically adjusts the speed of your vehicle. It detects a slow-moving vehicle in front of you and it will slow down until the road clears; then it will accelerate back to original speed.
With radar, cameras or both, this sensor will help you monitor your blind spots and alert you if there's a car nearby. Some vehicles will alert you with an audible warning, as well as a warning light on your dashboard or your mirrors. If you attempt to change lanes or turn when there is another car in your blind spot, this technology will alert you soon enough so you can quickly move away and some might even temporarily make your steering wheel harder to turn.
5.

Forward Collision Warning and Breaking
Perhaps one of the most lifesaving of all the safety features, forward collision warning, uses innovative technology to detect vehicles ahead and slow the vehicle down or change its course if it is going too fast. Using cameras and radar, this will send an audible alert and vibration of the steering wheel if the driver is getting too close or moving too quickly toward the vehicle in front of it. This is one of the most acclaimed features in recent vehicles. So, keep an eye out for it when searching for new car deals near Roseville.
These are only few of the few of the new features that you'll love in your next vehicle. They not only make your life easier and safer, they're really cool too! At the
Folsom Automall
, we strive to give you a great ride for our best price. So, if you are looking for new car sales and deals near Roseville, take a look at our
inventory
,
contact us
to schedule a test drive or
visit us
today!