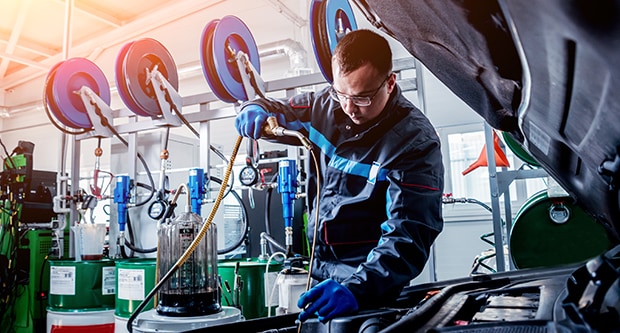 If you want your car to have a long and happy life, it's important that it stays in its best condition. That means performing monthly check-ups and some extra TLC. So, whether you prefer a more hands on approach or you'd rather take it to one of The Folsom Auto Mall's professional service department, check out these 10 things you should be doing to keep your car in its best shape for longer:
Every few months:
1. Inspect your car:
- Look for signs of wear and tear on your car. Make sure everything is working properly. Check that all your lights are functioning, check the air pressure in your tires, listen closely for any unusual noises and check for tire wear indications. Note if there's anything out of the ordinary and address it.
2. Check your fluids:
- Pop under the hood to see if you have enough fluid. Be sure to check your oil, antifreeze, power steering, coolant and wiper fluid. And most importantly, never ignore a leak.
3. Look at your battery and its contacts:
- Some of the newer batteries don't require much maintenance, however, it's important to be aware if there's any build up on your battery or if it needs to be charged. If your battery has buildup or it's leaking, arm yourself with a brush and battery cleaner and always have jumper cables handy in case you need to boost your battery.
4. Windshield fluid and wipers:
- Prevent your windshield from getting permanently stained or scratched by replacing your wiper blades and ensuring you have enough washer fluid.
5. Replace cabin air filter:
- Even though it's not critical to the vehicle's operation, periodically change the air filter in your vehicle to improve the air quality inside the cabin.
6. Have the oil and filter changed
- There's a myth that you should replace your oil and filter every 3,000 miles. And, even if it seems like the general rule, take a look at the owner's manual or contact our service department to verify exactly how long you should wait until you bring your vehicle in for service. For some models, it can be as many as 10,000 miles!
Annually:
7. Tire rotation, balance and alignment:
- Have your wheels aligned and balanced, and your tires rotated every year. Not only will this prolong the tires' lifespan by wearing them evenly, it will also help to make your ride smoother. Read through the owner's manual to see, if not yearly, how often you should do it.
8. Change spark plugs
- Schedule a visit to our service department to have your spark plugs looked at and potentially replaced. By cleaning buildup or replacing worn out plugs that cut the efficiency of your vehicle (like causing it to use more fuel) you can prevent potentially costly engine breakdowns.
9. Flush your radiator
- The radiator and cooling system can create buildup over time. So, flush the radiator and add coolant in order to keep them working efficiently. But before deciding to do it yourself, check that you have the required tools and products. Consult the owner's manual.
10. Replace your brakes
- Prevent accidents by making sure you are not driving with worn out brakes. Periodically replacing them (before they are completely worn out) can actually help you save on having to replace damaged brake rotors in the future.
Although some of this preventive maintenance can be done at home, make sure you're committed to the task, have all the required tools and are prepared for the job. It's always a good idea to consult with our experts as well before venturing into DIY. However, if you're not planning on handling maintenance yourself, our expert service department is here to help. Take a look at our service specials or contact us to schedule your appointment today.