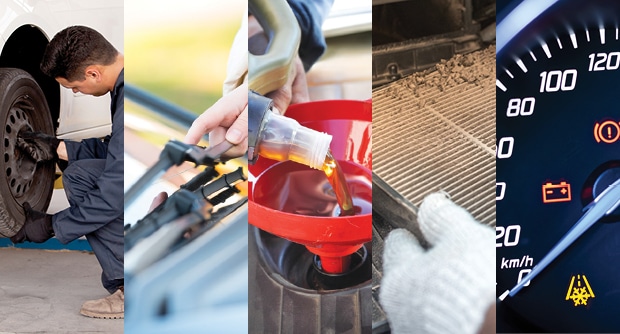 After you save on a
new
or
pre-owned
car, truck or SUV at the
Folsom Auto Mall
– it's going to be important that you keep your vehicle in good shape so it will last longer. If you're still looking for a vehicle, make the Folsom Auto Mall your one-stop shop to find amazing lease deals near Roseville.
When servicing your vehicle, we encourage you to always visit one of our service centers for maintenance and to practice our 5 easy maintenance tips for your vehicle.
Get Your Tires Rotated
The importance of checking your tires is to make sure that the tires wear evenly. Our seasoned service professionals at the Folsom Auto Mall recommend getting your tires rotated every 5,000 miles to 7,000 miles. That equates to about every six months or twice a year. Check your owner's manual to see what's best recommended for your specific make and model.
Because tires wear differently depending on the location, there may be some tires that need to be replaced sooner than others. Front tires typically wear quicker than the ones in the rear due to steering. This is why it's important to get your tires rotated and balanced. Visit one of Folsom Auto Mall's expert technicians if you need your tires changed, rotated or balanced.
Replace the Wipers
As with the tires, we recommended replacing wiper blades every six months.
Wipers ensure visibility. If you notice your wipers squeaking, skipping or smudging, it may be time for new blades. If you aren't sure how to change your wiper blades, visit the Folsom Auto Mall and let one of our trained technicians help.
Change Your Oil & Oil Filter
We recommend that you do both: change your oil and your oil filter at the same time – and do so every three months. For specifics on your vehicle, be sure to read the owner's manual.
To help your vehicle run smoother, you must have an oil change to remove the old oil and replace it with fresh, new oil. The filter removes dirt and grime from your oil, helping to improve gas mileage and the longevity of your vehicle.
Check/Change Your Air Filter
Check your air filter to see if it should be changed. To do so requires a screwdriver and potentially disconnecting an electrical connection. If you can't check for yourself, please see one of our veteran technicians for fast service.
We recommend changing your air filter every 10,000 to 20,000 miles. The air filter helps ensure your engine stays protected by filtering out harmful stuff like insects, dirt, pollen and dust.
For cabin filters -- change them every 15,000 to 25,000 miles or when you see it is dirty. A clean cabin air filter is essential for decontaminating the air coming onto your cockpit.
Drive With Care
This should go without mentioning but driving your vehicle with care means more than not trying to squeeze into tight parking spots. Here are some helpful ways to drive with care:
•
Don't ignore warning lights.
It's your vehicle's way of communicating that something may be wrong.
•
Avoid driving over potholes if possible.
They can damage your tires and possibly throw your vehicle out of alignment.
•
Wash Your Car Regularly.
It helps remove dirt and chemicals that can turn into rust.
•
Pay attention to recalls.
If you get a notice that your vehicle has a recall, meet with the dealership as soon as possible to get it handled.
•
Clean up spills to preserve the interior.
Act quickly and safely when there's a spill in the car. It can later cause a odor or interior damages.
Follow these 5 easy maintenance tips for your vehicle to help your car, truck or SUV stay newer longer. If you run into any issues or need your vehicle serviced, please be sure to see one of our expert, factory-trained technicians here at the
Folsom Auto Mall
. Be sure to visit us for new lease deals near Roseville, on all our inventory!